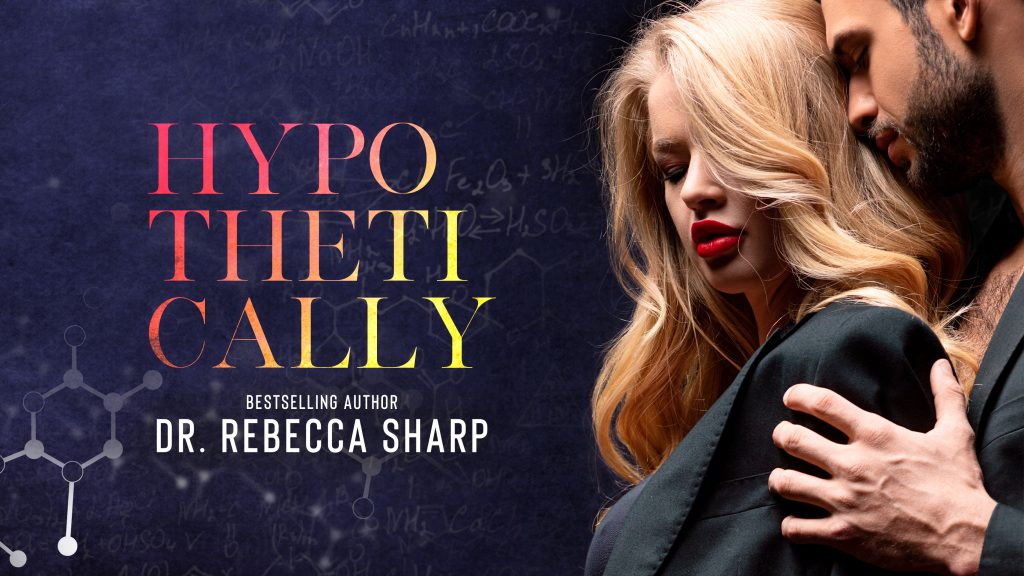 𝙃𝙔𝙋𝙊𝙏𝙃𝙀𝙏𝙄𝘾𝘼𝙇𝙇𝙔 𝙗𝙮 𝘿𝙧. 𝙍𝙚𝙗𝙚𝙘𝙘𝙖 𝙎𝙝𝙖𝙧𝙥 𝙞𝙨 𝙇𝙄𝙑𝙀!
𝘿𝙤𝙣'𝙩 𝙢𝙞𝙨𝙨 𝙩𝙝𝙞𝙨 𝙨𝙚𝙭𝙮, 𝙗𝙚𝙨𝙩-𝙛𝙧𝙞𝙚𝙣𝙙'𝙨 𝙛𝙖𝙩𝙝𝙚𝙧 𝙛𝙤𝙧𝙗𝙞𝙙𝙙𝙚𝙣 𝙧𝙤𝙢𝙖𝙣𝙘𝙚!
#𝙊𝙣𝙚-𝙘𝙡𝙞𝙘𝙠 𝙩𝙤𝙙𝙖𝙮!
BOOK BLURB
From bestselling author, Dr. Rebecca Sharp comes a sexy, best friend's father forbidden romance...
𝐅𝐚𝐜𝐭:
Damien Milanovic was a pharmaceutical superhero, masked with gilded glasses and a starched white cape. Intelligent. Illustrious. Impermissible. He was the chemist who decided that curing cancer-curing death—was worth the price of not living his own life.
𝙷𝚢𝚙𝚘𝚝𝚑𝚎𝚝𝚒𝚌𝚊𝚕𝚕𝚢, how bad would it be if I had a crush on him?
𝐅𝐚𝐜𝐭:
I was Lilith Montgomery, the smartest student in my class and the most popular girl in school. All I needed to graduate was to finish this chemistry internship with Dr. Milanovic. What I would learn would be invaluable to my future, but it wasn't the only reason I was there.
𝙷𝚢𝚙𝚘𝚝𝚑𝚎𝚝𝚒𝚌𝚊𝚕𝚕𝚢
, how wrong would it be to use the internship as an opportunity to seduce the cold, captivating chemist?
𝐅𝐚𝐜𝐭:
Damien Milanovic was also my best friend's father.
𝙷𝚢𝚙𝚘𝚝𝚑𝚎𝚝𝚒𝚌𝚊𝚕𝚕𝚢
, how impossible would it be for us to fall in love?
My Review:
Hypothetically really satisfied my desire for age gap stories. I've been really getting into them this year and when I saw Dr. Rebecca Sharp was writing an age gap story I just HAD to request a copy.
Damien has lived his life afraid of love. He likes science and cold hard facts. Feelings and people are complicated. When he meets Lilith he knows wanting her is wrong. She's his daughter's best friend and is now working in his lab to help her graduate on time.
Lilith has had a crush on Damien since he first walked into her science class and now he's all she thinks about. Being best friends with his daughter doesn't change the desire she has for him and working with him in the lab has changed the game for her since now he's only a breath away.
I enjoyed this story and I'm excited to see where this story goes. While there are a lot of sexy scenes and sexy thoughts, I like that Lilith and Damien felt like well fleshed out characters and had interests outside of each other. I enjoyed the world-building and I can't wait to see where Dr. Sharp takes this world.
ABOUT THE AUTHOR
Dr. Rebecca Sharp, while using a pen name, is actually a doctor living in Pennsylvania with her husband - the love of her life.
She enjoys working in her practice with her father as well as letting her creativity run free as an author. Growing up she's always loved a good love story and finally decided to give writing one of her own a go.
After graduating with her doctoral degree, she now enjoys spending that thing called free time traveling with her husband, cooking, and knitting.