📚 💗 HOT NEW RELEASE 📚💗
Confessions of a Bookaholic by Joslyn Westbrook is LIVE! Don't miss this whirlwind slow-burn, friends-to-lovers romance filled with laughter, angst, and enough steam to melt hearts. #One-click today!
BOOK BLURB
What happens when a book blogger accidentally publishes her digital diary online?
A viral
shitstorm
, that's what.
No way did I want thousands of subscribers to read my confessions—yet, that's precisely what went down last night after four too many Cosmos with my girls.
Now, Damage Control is my new middle name because my diary confessional has my roommate, Lucas Stone, written all over it.
Literally.
I've been in love with him forever—well, ever since I saw him sprint across campus naked during our first year of college.
And now that Lucas knows how I feel about him?
Well, things are destined to get awkward.
Because Lucas Stone, my BFF—the man who sleeps only one room over—just got engaged.
And his fiancée isn't me
.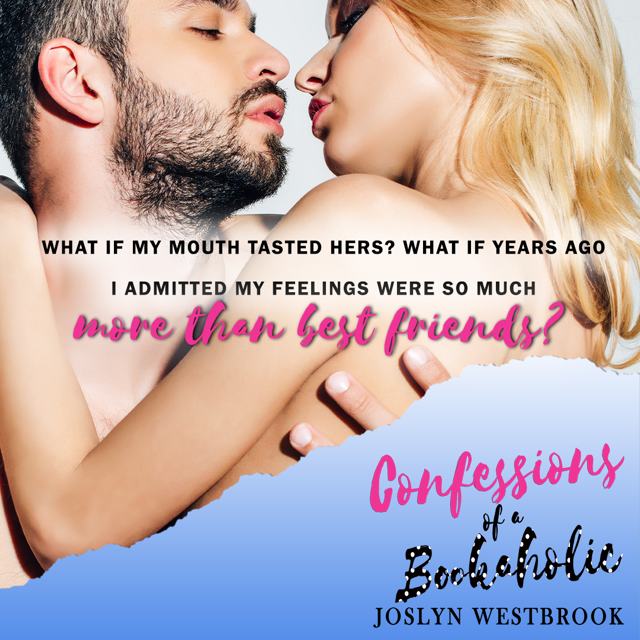 My Review:
When Macy our MC found out her best friend, roommate, and the guy she's been in love with since high school proposed to another woman she gets drunk and accidentally posts a diary entry on her blog confessing her love for him. Whoops. Her Confessions of a Bookaholic diary confession goes viral and when Lucas starts avoiding her, she knows he's read it. She doesn't expect him to turn around and tell her he's been in love with her the whole time too.
Lucas was shocked when he read Macy's confession. He never thought his feelings for his best friend would be reciprocated. After reading the confession Lucas has to figure out how to let Macy know his true feelings and get rid of the fiance he's not in love with.
Confessions of a Bookaholic was my first exposure to author Joslyn Westbrook. I thought this story was very cute. A bit of a spoiler, this story doesn't stop when Macy and Lucas come together, but since that's where the synopsis/blurb leaves off, I'm assuming the author didn't want me to go into more detail. That being said, I do think some things should be said about this story.
For one, Lucas is a football player in his senior year, and a lot of this story centers around him going towards his dream of graduating college and entering into pro football. I bring this up because one of the big conflicts in this story is after Macy and Lucas get together she starts putting her dreams aside for him thinking that when he goes pro he'll need her at the games. The issue with this is that she doesn't tell Lucas and so he does some crappy behavior to try and get her to go after what she wants.
I thought that was a beautiful message for this story. I do wish the story was more about Macy and her blog and less about football. I also, being me, struggled with the fact that right out of college Lucas would just buy this crazy expensive house. But whatever. I think those are my own issues, but it seemed odd he wouldn't be told to wait until after he'd played a couple of games first.
I think my other issue was the sex. There was so much of it after the characters got together and I just wish there had been more relationship building. Since they'd been friends for so long a lot of the relationship-building happened off stage or book or whatever, but I still wish there had been some.
I think Confessions of a Bookaholic was an enjoyable story. I read it very quickly and there weren't any parts that really dragged for me. I liked the characters and their relationship with their friends and families. It's a cute read.
GIVEAWAY
To celebrate the release of Confessions of a Bookaholic, Joslyn Westbrook is giving away a $25 Amazon gift card! Head to her Facebook page to enter:
ABOUT THE AUTHOR
Wife. Mom. Foodie. Fashion Junkie. Rom-Com Lover.
Author of sexy rom-coms and feel-good contemporary romance, Joslyn Westbrook's novels feature sweep-you-off-your-feet heroes and the sassy, classy, badassy heroines who can't seem to breathe without them. When she's not writing, Joslyn can be found binge-watching Netflix, cooking, shopping, and spending time with her husband and children at home in sunny California.
AUTHOR LINKS
Facebook:
https://www.facebook.com/JoslynWestbrookOfficial
Reader Group:
http://bit.ly/JoslynWestbrookAListers
Instagram:
https://www.instagram.com/joslynwestbrook
Mailing List:
https://www.subscribepage.com/JoslynWestbrook
Goodreads:
http://bit.ly/JoslynWestbrookGoodreads
Amazon:
http://bit.ly/FollowMeOnAmazon
Bookbub:
http://bit.ly/JWBookBub