Author Appreciation is a monthly blog posting to give a shout out to some of my favorite authors out there.
Wow there's so much so much to say about Sarra. I first found about her from amazon after I got my Kindle so she was one of my first ever authors I read on my kindle. The rest is history. I am a huge fan of her Peachville High Demons Series and can not wait for the next one to come out. I fell in love with the amazing writing and completely unique characters and world Sarra created. Plus you know Jackson...yum!
I hope everyone checks Sarra Cannon out which you can do:
The Peachville High Demons Series:
For Information on how to buy this series and some interesting excerpts go:
here
!
Eternal Sorrows Series:
Whenever I think of a story idea or try to come up with a plot-line, no matter how 'normal' it may seem in the beginning, I always end up adding ghosts or witches, demons or zombies. Something paranormal finds its way into every story, one way or another. It's just who I am. I read Tarot Cards, love horror movies, and am entranced by a full moon.
When I was growing up, I lived in a log cabin in the woods. The perfect setting for a horror novel, if you ask me! Our whole family – Mom, Dad, my sister, me and my brother – all worked together to build the house from the ground up.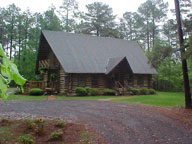 We lived several miles outside of the small town of
Hawkinsville, Georgia, where I went to school from Kindergarten until graduation. Growing up in the middle of nowhere meant learning to use my imagination. A lot.
(
Let's just say that when friends would come over, my idea of a good time was pulling out the Ouija Board.)
Reading was another one of my favorite ways to escape into my own imagination. I loved reading books by authors like Christopher Pike, Lois Duncan, and Stephen King. Anything that made me just a little too scared to turn off the lights and go to sleep. Later, my love for horror and fantasy extended into movies and video games, too.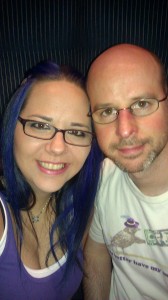 Eventually, video games led me to the greatest love of my life – my husband George. We met playing Everquest II, an MMO similar to World of Warcraft. At the time, I was teaching music in an elementary school. I didn't have much time or opportunity for writing, but I had big dreams of someday being able to write a novel. One of the great things about finding the love of your life is that you suddenly have all this support for what you want to do and be in life. George encouraged me to be a writer. He continues to encourage me every day, and he's always the first one to read everything I write.
The first novel I ever completed was for NaNo WriMo 2008. INTO DARKNESS, was about a girl whose twin brother disappears into a dark cave in the mountains. She'll stop at nothing to find him, but will she be too late? I wrote 50,000 words of that first book, but never saw it through the editing process. I'm thinking of someday picking it up again and rewriting it, but I have a lot of other projects to work on first.
My second YA novel, PANDEMIC, was one I started for NaNo in 2009. I eventually finished that novel in 2010, but I knew it needed some work so I set it aside and wrote another novel. BEAUTIFUL DEMONS was my third novel. It's about a girl named Harper who is kicked out of yet another foster home and moved to the small town of Peachville, Georgia. There, she encounters a group of mysteriously beautiful cheerleaders. When Harper is framed for the murder of one of the PHS Demons cheerleaders, she is determined to find out what big secrets are being hidden in this small town.
I knew I wanted to be a published author, but instead of following the traditional route of querying agents and submitting to publishers, I decided to self-publish. At first, I was so nervous and scared. Was I making the right decision? How would anyone ever find my books? Would anyone like my books? In October of 2010, I bit the bullet and self-published BEAUTIFUL DEMONS in ebook format. I wrote INNER DEMONS, the 2nd book in my Peachville High Demons series, for NaNo 2010, publishing it soon after in December. As sales began to pick up, I felt so incredibly proud of myself and so very grateful to everyone who was reading and supporting me as an author. The series continued to grow, and I have never once regretted my decision to become an Indie author! For more information on my journey, books, and just to get to know me better in general, I hope you'll take some time to explore my website, read my blog and even send me a message.
Hope everyone enjoyed that and I hope you all check out Sarra's amazing books. Have a great September!
P.S. Sarra agreed to do some awesome stuff with me this month to celebrate a couple of her upcoming releases so be on the lookout!